Sink Or Float? Float Therapy and Recovery
I've been wanting to experience a float therapy since I first heard about them 12 months ago. Many athletes I know personally recommend them for their recovery benefits, stating they surpass that of a good massage.
The problem for me however, is that I suffer from claustrophobia and the thought of lying in an enclosed dark tank for 60 minutes petrifies me!
Fast forward a year and I'm offered an opportunity to experience a complimentary float at Beyond Rest in Coorparoo Brisbane - and right when I am in need of some good relaxation too!
What to do? What to do?
"It's a sign. I must conquer my fears and give this a chance!"
So, I take the plunge.
- - -
I wake up the morning of 'float day' with a tight stomach. I am booked in for 12:30pm and I am a bundle of nerves. I read and reread the carefully detailed confirmation email:
- avoid coffee 4-5 hours pre-float
- don't shave
- avoid eating a meal 2 hours pre-float...
The words become a blur as I start visualising being stuck in a tank that won't open.
At one point I consider cancelling and quickly remind myself that I am incredibly fortunate to be afforded this opportunity.
- - -
I'm not known for being early to appointments, however on this occasion I arrive 30 minutes in advance - 15 of which I sit anxiously staring into space in the car.
When I finally muster up the courage to enter, I instantly begin to relax a little. The reception area is vast and dimly lit with tasteful decor that illicit a warm and calming aura. The two girls behind the reception desk greet me in equal quantities of warmth and set about to reassure me of the plethora of options to help alleviate any potential feelings of claustrophobia I may experience, including:
- shallow water
- large tank
- lights can remain on
- lid can remain fully/partially open
- there's an emergency button
I start to feel a little silly as I am given a tour of the facilities and note how large the tank truly is. I realise, without a doubt, I can do this and start to feel a little excited.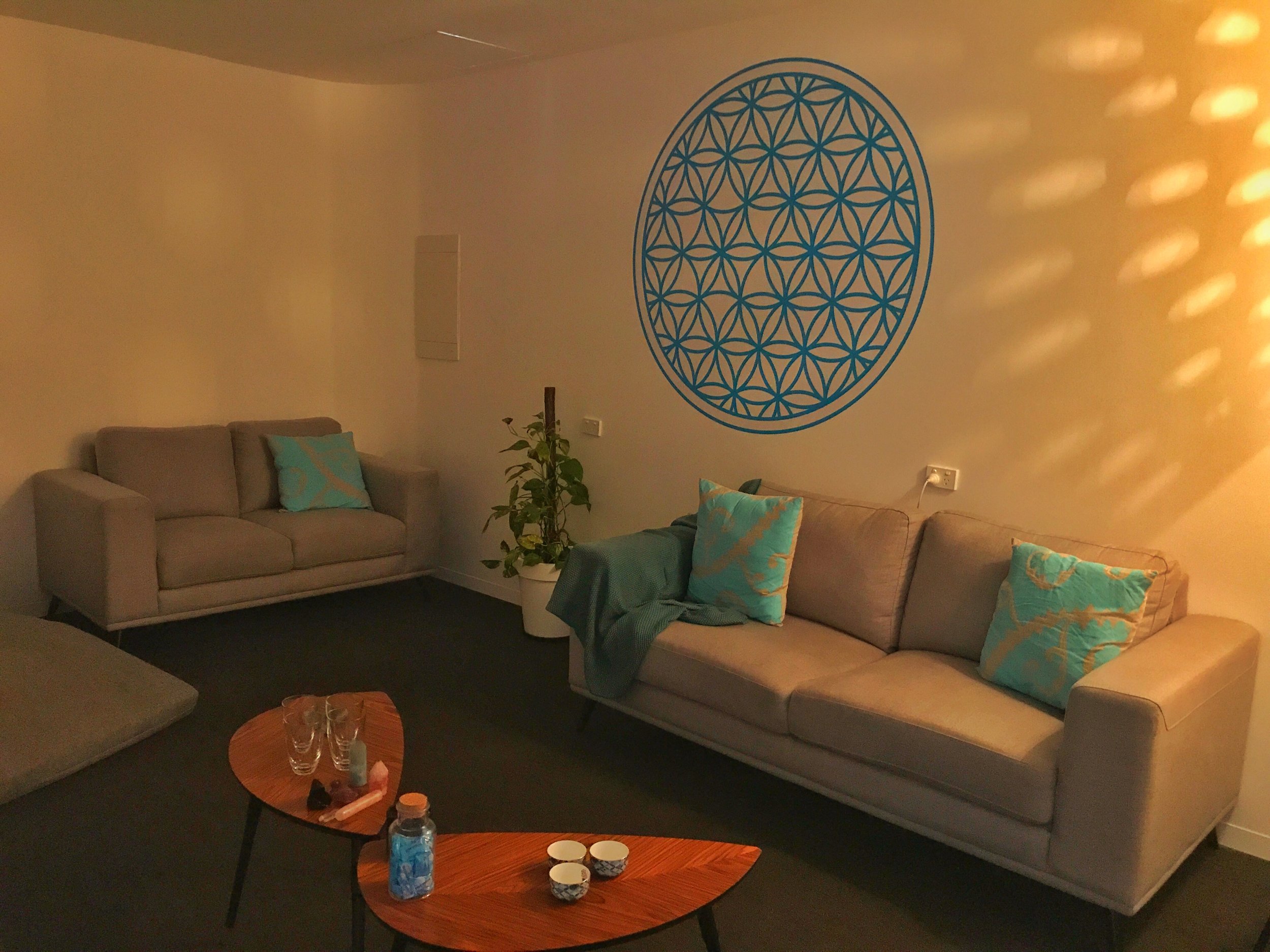 At Beyond Rest, your private room is installed with a shower head and as I rinse off pre-float, I am reminded of how much I long for such a gigantic shower head of my own! With earplugs in and headrest in hand, I check for the 5th time that I haven't locked myself in the room before gingerly stepping into the tank.
The temperature of the water is warm and the depth approximately 25cm but as I lengthen out my body I am still dubious that this water will in fact make me effortlessly float. I picture my legs sinking instantly to the bottom, however the 500kg of super-saturated Epsom salt solution - a replica of the dead sea - proves me wrong yet again.
I leave the light on to begin, and play around with the touch sensitivity of the tank lid before settling with leaving it an inch open. The room light is still on so I turn off the internal tank light, comforted by the external glow visible through my security opening. I feel proud of myself for being here as I close my eyes and begin to drift away to the 10 minutes of therapeutic music specifically selected to relax you further into weightless bliss.
And then…
The external lights go off and the music stops.
I instantly panic, splashing about as I hit the top of the lid. As it springs open with my sudden force, the room lights up yet again and I think how foolish I am, hoping that my commotion wasn't heard outside. Ok, so maybe I need to keep the lid fully open so that when the lights go off again, I don't start assuming the worst is going to happen to me.
That's the problem with claustrophobia. Irrational and terrifying thoughts overwhelm your subconscious mind and your heart rate escalates out of control. Your throat tightens and your breathing becomes so erratic, you barely feel as though you are getting any oxygen into your lungs.
Round two.
The lights automatically switch off again - almost as though they have a heart rate monitor sensing when I am ready to handle it again. This time, with the lid open, I cope better. It takes me a while to allow my thoughts to calm and turn in a more positive direction, however, eventually I start actually wishing I had closed the lid further down. By now, I am actually too relaxed and lost in my own mind that the effort to reach up and pull the lid down is too much, and I leave it as is as I transcend further and further away from my surroundings.
I won't say that I nailed the ability to lose myself and practice meditation during this first float, however I will say that after the initial 15 minutes of slight panic and readjustments, I certainly did relax and the time absolutely flew by! It's amazing what reduced stimulation does to the mind and body - no sound (the music stops after 10 minutes and restarts with 5 minutes remaining), no light, and complete weightlessness that allows every muscle in your body to relax!
As I emerged out of the tank and took a refreshing shower to remove the salt from my body, I felt incredibly still and serene. I can't wait to do it all over again.
Beyond Rest doesn't miss a beat. Outside of my tank room, there is an area to blow dry your hair and moisturise your skin, and another 'unwind' room where you can prolong your entry into the outside world with a lovely cup of tea . You don't have to bring or think of anything here - they do it for you!
Just as I am ready to leave, a woman walks up to me and says , "Do you go naked, or where swimmers?" I smile and confidently reply, "Naked." I am so experienced at this, I smugly smile to myself ;-)
Beyond Rest, Coorparoo, Brisbane, is offering my loyal followers a discount for their first float. Simply use 'wellness65' Monday-Friday to receive your first float for $65.